I've been in Andalucía long enough to see a few places and am eagerly anticipating the end of exam season which will afford me a one week Easter break to see more. In the past month I've been to Cordoba, Granada, Seville and Huelva and plan to visit Cadíz, Gibraltar and Málaga during my holiday.
Calamity in Cordoba:
My first weekend outing was a less than satisfying visit to Cordoba to watch the 'green & whites'. The Estadio Archangel was especially quiet this particular Sunday, as fans stayed at home to avoid the persistent drizzle and lacklustre display. I went with a friend although I had to sit on my own as he had a season ticket in a members only section. At least my seat was covered.
Cordoba are heavy favourites to win the second division after their first relegation in many years, but their drop in form and lack of belief reminds me of Portsmouth's seemingly eternal struggle to escape League 2.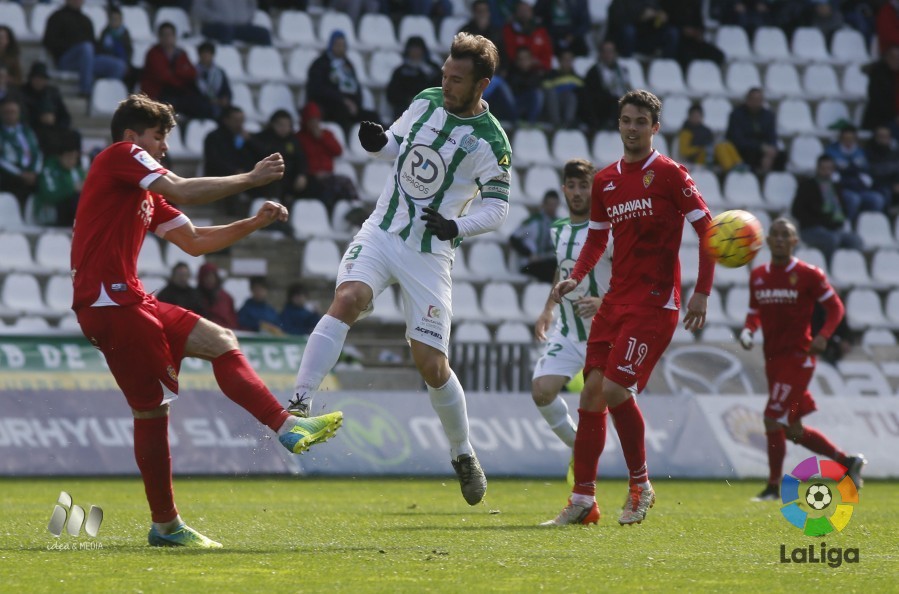 One of 6 bookings in the home loss to Zaragoza
There were are few drums in the 'ultras' section, but with the stadium only half full, the atmosphere was subdued. Most fans consoled themselves by drinking expensive Coca Cola and by shovelling in handfuls of pumpkin seeds. Spaniards seem to eat these salty snacks by the bucket-load and spit the shells out directly onto the floor like spent machine gun cartridges. I felt like I was walking through no man's land avoiding all of the wet husks on the floor when exiting the stadium.
The team went on to lose 2-0 to mid table Zaragoza with the newspaper giving their best player that day a measly 4/10 for his performance.
Segways and sore feet:
The next weekend I ventured out to the well known destination of Granada, famous for its narrow streets and medieval fortress.
With petrol prices at such a low, it is a wonder that buses are still so expensive. My 90 minute journey on a rather cramped coach cost the same as a slap up dinner in a restaurant. Prices are weird here, you can buy a whole leg of cured ham for 25 quid and house for £15k, yet a daily newspaper can cost nearly £2!
On arrival, I was offered a Segway tour by the tourist information official. I told him that I preferred walking and that 50 Euros to look like a dick was a little steep.
"But it is half price today"
he offered. You would have to pay
me
25 Euros to get on one of
those death-traps
.
Be prepared for some sore feet the next day because there is plenty to see in Granada and you'll be walking all day. You can check out the Gypsy quarter with its cave houses and flamenco bars, get lost in the narrow streets in the Albayzin district and amble along the Carrera del Darro underneath the fortress.
Not everyone in Spain is so pleased about sharing the old narrow streets with cars though . . .
Grananda is also famous for its gastronomy festival so I was looking forward to some great tapas. Unfortunately I found a classic tourist trap restaurant and all I got was an overpriced salad and kebab combo and some typically angry service in a café.
I walked around the medieval fort which was pretty extensive and has awesome views of the city. There were Moorish palaces, galleries, famous gardens and the grand old battlements to look around which took a good few hours to complete. It was well worth it but pretty tiring in truth. Maybe I should have shelled out for that Segway after all!
Some old faces:
After weeks of wrangling, I managed to meet up with some ex-colleagues from Mexico. They live near the Portugal border but the bus services here aren't always easy to navigate. By car, it's only two hours to Seville, but my 'direct' bus took me over four hours - lesson learned, it is quicker to change buses.
It was great to see some friendly faces and we rushed around the busy state capital on the bank holiday weekend. Everybody was out especially early this Saturday so we joined the crowds on the river front for some drinks. After some sub standard tapas (I really should take more time to look into decent places), we ended up in an Irish bar watching the rugby.
"Dat's definaately a troi,"

exclaimed one half-cut onlooker.

"I seen him get de baal down."
Nope! England are looking good so far.
As I checked out the next morning and the receptionist almost fell of his chair when I asked for a map.
"You are leaving and you only want a city guide now?!?!"
I used said map to take a look at Seville's cathedral, parks and palaces - all quite impressive including the intricate ceramic work you can see everywhere. I forgot to bring my camera, so good old Google images will have to suffice.
Huelva pier
I headed off to nearby Huelva to stay with John & Mel who had made the move from Mexico to Spain a little earlier than I. Although the city is not the prettiest, it was charming in its own way, and for once the food didn't disappoint!
We had smoked cod tapas and carrilleras (pork stew) in addition to octopus potato salad and good old salty croquetas. I found some pictures of dishes similar to the delicacies I consumed that weekend.
Even without my camera, I did manage to get the
lovely
picture of us in a car park. It has some cool street art around although the photo doesn't exactly capture it well. We also saw a man defecating behind a wall just out of shot. I am not sure if it was some kind of protest about the quality of the paintings, or if he was
just caught short
.
The drums are coming:
My ears are still ringing.
I didn't actually go anywhere this weekend, but for once the party came to Baena. It's part of a
national drum organisation
formed of around 30 towns and takes it in turns to host the festival. From Friday to Sunday, around 10,000 people descended on the Andalucían town almost doubling its population.
There were various official events which culminated in a unholy racket at midnight on Saturday with the representatives from each town wearing their colours and bashing out miss-matched rhythms. I found it an apt metaphor for how people here talk over each other instead of taking it in turns.
The festival is really just an excuse for people to dress up in costumes and make a lot of noise. There were makeshift bars all over town and the revellers came in to drink and play - it was loud.
I was told that the Baena boys pictured are called the 'black tails' and that they have a beef with another local drumming group, the 'white tails' - very West Side Story.
When I saw lots of groups ordering coffees at 11pm I knew it was going to be a long night . . . it was. At 2 a.m. the little dude on the right was still banging away on his
tambor
. Spaniards sure love taking their kids boozing with them.
It was a cool experience and a fun party but certainly not the most relaxing weekend.