It has been a busy few weeks getting used to the new job and settling into Spanish life.
. . . Well, as busy as a 4-9 pm schedule can be.
I've been learning Spanish, learning about the Spanish postal system, and learning what Spanish people like.
Sodium chloride:
One of my preconceptions about Spanish cuisine was that it was salty. It is. Don't get me wrong, tapas is great, but everything is either heavily fried, salted, or served in brine! Even the churros in Baena seemed salty to me, not the ideal accompaniment for coffee.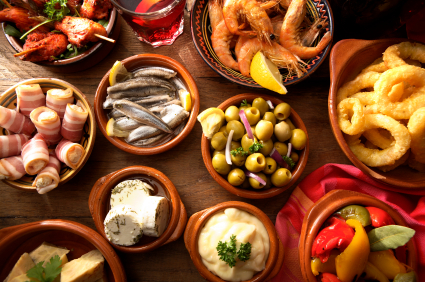 I contemplated buying a whole cured ham for my birthday, they only cost about 25 pounds and I've got so much room in my house that I could have dedicated a whole room to it. Unfortunately, I don't know enough people here yet to help me consumer it. As much as I like
jamon serrano
, I don't think my body can take the abuse of 5 kilos of salted pork!
Swimming:
The swimming pool here is certainly well used by the ageing Andalucían population. It is usually three to a lane . . . and the majority of the bathers aren't doing lengths.
The old girls and boys of Baena have a bizarre variety of strokes ranging from doggy paddle and backwards sculling through to 'trying desperately not to drown'. Lifeguards look on ambivalently as groups of chatting mothers block both ends, and a disabled man flails his arms splashing most of the water out of the pool.
I regularly see people using snorkels in the pool, puffing and spluttering their way up and down. And if they are not using inappropriate breathing equipment, they're hogging all of the floats. Large old ladies stuff two 'noodle' floats between their ample legs and inch toward the deep end paddling vertically, peering around like meerkats.
Country collections:
Flat caps, suede boots and diamond pattern padded outwear is the trend here. This town looks like a virtual reality Barbour catalogue.
I can't see any shops in town that sell these gilets and jackets, but wherever these people are buying them must be making shit loads of money.
I sometimes feel like the whole town is out on a hunt and I haven't been informed. Many people seem to have country houses in Andalucía, and an young student even told me that he was shooting boar at the weekend. I guess we know why there is so much ham around now.
Public houses:
Well they call them pubs. Really, the bars are more like cafés here - steel chairs and small glasses of fizzy beer. You normally get a little snack (salty) with your drink, and there is always football on with plenty of newspapers floating around. Not much to cater towards the fairer sex. Pubs in England are now tended by hipster bar staff who know how to serve a 'cafe macchiato' better than they know how to pull a pint, but Spanish pubs are different. Spanish pubs are tended by weird 40 year old siblings wearing matching navy tank tops. Spanish pubs have children playing hopscotch on patterned the floor tiles at 2 a.m.
The use of 'pub' to describe these establishments shows the Anglophile culture here. It's refreshing to be somewhere where being British is cooler than being American. I haven't been into yet, but my favourite name in Baena is 'Pub Dylan'. I'm told that is plays reggaeton not folk music. I'm sure Bob disagrees with this unfortunate decision.
Pubs are usually equipped with a pool table too, and it's always occupied. However, the stupid Spanish rule about potting the black in the opposite pocket to the penultimate ball, ensures that every frame descends into a game of hit and hope.
Festivals:
I have only been here a few weeks, but there has already been festivals galore. I haven't had to run away from any bulls, or had to avoid any high velocity tomatoes, but every city in Andalucia has its own festive period.
During the Mardis Gras carnival, each town holds a parade where everyone who wants to dress up, buys incongruous costumes (think Minions, cowboys and cookies), and files along in a parade making as much noise as possible. The spectators get drunk along the route and annoy each other by throwing confetti into everyone's hair and eyes. This is only the start of it all as they do something weird with sardines on Shrove Tuesday, and some kind of messy drum-based ceremony on Ash Wednesday. I await Easter with baited breath.
A lot of the festivals seem to involve throwing stuff - Tomatoes, wine, flour, coloured powder and flowers. When I asked my students why festival seems to mean 'chuck stuff at each other' in Spain the simply said . . .
"Because we can"
The TV is showing the Cadiz festival at the moment which seems to consist of
bad political plays, opera, and groups of moustachioed men dressing in 17th Century velvet costumes and playing the mandolin. It beats watching FC Barcelone beat some crappy team 7-0 anyway.
The Lottery:
Get up, have a coffee, walk the dog and BUY A LOTTERY TICKET! It is part of the routine here.
In Baena, a town of 20,000, there are two lottery shops, two lottery stands and several independent ticket sellers that travel around town. I have seen oldies spending their pension, parents giving their children their first ever ticket, and café owners emptying the till to buy more tickets.
Spain has 6 different levels of lottery:

La Lotería Nacional, La Primitiva,

El Gordo de la Primitiva

, La Bonoloto, La Quiniela and

Euromillones. These are the tickets sold in the official shops and La ONCE (a blind organisation) sells coupons on the street which seem to be popular.
Last year's
gordo
draw spawned many headlines about a
humble migrant winner
, and a
particularly lucky town
.
Amongst all of this gambling madness, I found it a little frustrating to be locked out of my BetVictor account in here. The company has headquarters in Gibraltar so is blocked in Spain.
Disruption:
One thing people certainly don't like in Andalucía, is listening. My Mexican Spanish ensures that everyone thinks I don't understand a word of Castellano, so they talk over me and often try to explain in woeful English. It took me 20 minutes to pay a restaurant bill yesterday because the waiter wanted to know how to say the amount in English. My colleague then got into a discussion about the difference between 'fifteen' and 'fisting' with the waiter constantly interrupting to ask about other numbers and sexual acts.
Classes are full of disruption of course. I often feel like a haggard old sea captain tightly holding on to the ship's wheel, desperately trying to steer the lesson back on course.
I've had 10 years olds stand up during a listening exercise about cities, to tell the class about their new found desire to be a pilot . . . or a policeman.
I've had 15 years olds having a panic attack because they dropped a pencil and can't find it. They even had to go outside to calm down.
Just today my speaking class in school was interrupted by the delivery of Valentine's chocolates to one of the girls.Apparently sweets are more interesting than the second conditional tense.
At least with my younger students, I have figured out one thing that they
do
love. Stickers. With my typical 'quest for justice' approach, I have created a complex system for gaining or losing stickers and have to spend half of each class warning or praising students and giving them ticks or crosses. Then they like to ask about how many ticks or crosses they have and what the consequences are.
. . . Then they just demand stickers whatever the situation.
It's my own fault, I'm disrupting my own lessons now!